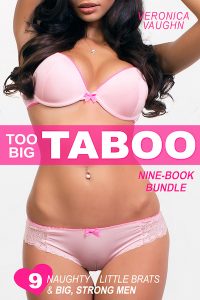 Targeted Age Group:: Steam Level: Heat Level 5
Category: Erotic Romance
About Too Big Taboo Bundle:
This bundle is way too big! It's stuffed with taboo romance! Treat yourself to nine books and 85,000 words of naughty little brats learning forbidden lessons from the man of the house. Author Veronica Vaughn's hottest collection yet … featuring military heroes, sexy firemen, billionaires and other big, strong men ready to put you in your place.
Links to Purchase eBooks
Link To Buy Too Big Taboo Bundle On Amazon

Disclaimer: All information for this book was submitted by the author and is presented as is so you get to know the author and their style. Prices are subject to change.