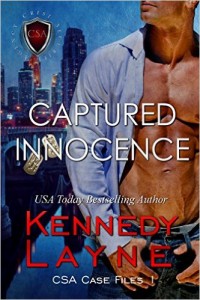 Steam:: Steam Level 5
USA Today Bestseller
When former Marine, Connor Ortega, was ordered into the offices of Crest Security Agency on a Saturday morning, he didn't expect the latest case to hit so close to home. A submissive has been murdered in a particularly vicious manner and to bring her killer to justice, he must go undercover. Not hard to do considering he's already part of the BDSM lifestyle.
Lauren Bailey, a local vendor of bejeweled erotic implements, lives vicariously through her clients due to her fear of bondage. When Connor's dominant side can't resist trying to ease her anxieties, she accepts his proposal and agrees to his one stipulation…keep things casual.
When the killer sets his sights on Lauren, Connor is forced to rethink their relationship. He has the training it takes to catch a murderer, but does he have the courage to escape his inner demons and capture Lauren's heart?
Publisher's Note: This book contains explicit sexual content, graphic language, and situations that some readers may find objectionable (anal play, strong BDSM theme and elements, violence). Not intended for those under the age of 18.
Series Description:
Crest Security Agency (CSA) is run by Gavin Crest, a retired Marine Master Sergeant. He has personally selected his own former military team members, both men and women, to configure a seamless Special Operations Capable (SOC) unit. Working together on investigations, domestically and abroad, each team member will find their niche in life and love. Follow along as Kennedy Layne conveys each of their stories as they work together on investigations that lead them down perilous paths of passion, intrigue and suspense…
Get Captured Innocence at Amazon
Get Audiobook
What format is this book in? eBook, Print Book, Audiobook
Have you read this book or another by this author? Tell us about it in the comments!