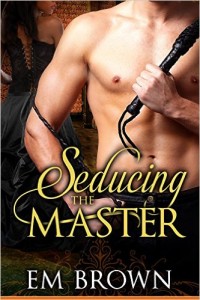 Steam Level 5
"Ravage Me."
No man has ever resisted the charms of Miss Terrell before, but Master Gallant refuses to grant her request and have his way with her.
After losing a wager to the proprietress of the Inn of the Red Chrysanthemum, where patrons take carnal pleasures to wicked and wanton extremes, Charles Gallant reluctantly accepts an assignment to train Miss Katherine, a neophyte, in the ways of submission. His task, no easy undertaking for Miss Katherine is petrified by the goings on at the Red Chrysanthemum, is made more challenging by the constant distraction of a most persistent seductress — Miss Terrell.
A former slave from the West Indies, Terrell depends upon the Red Chrysanthemum for room and board. Her only prospect for a comfortable life is to become the mistress of a man with means. Sir Arthur, a wealthy Member of Parliament, is just such a man. Having staked his claim of her, he expects her full devotion. But Terrell cannot quell her scorching desire for Master Gallant, whose deft hand and command of rope bondage inflame her deepest, darkest cravings.
All this comes at an unfortunate time for Charles as he pursues his own election to Parliament. Succumbing to Miss Terrell would be a disastrous mistake. For her sake, he would not wish to incur Sir Arthur's wrath. For his own, he risks the endorsement of Sir Arthur, whose support would assure him victory at the polls.
Miss Terrell, however, is intent on seducing Master Gallant. Only one thing can stop her, but it will devastate them both.
READER ADVISORY: This Regency-set erotic historical romance contains BDSM elements, themes of dominance and submission, and other forms of wicked wantonness.
Themes/Elements in this series include erotica, BDSM, domination and submission, bondage, discipline, 19th century Regency historical, a strong heroine, interracial BWWM and romance.
Get Seducing the Master at Amazon
Get Seducing the Master at Barnes and Noble
What format is this book in? eBook, Print Book
Have you read this book or another by this author? Tell us about it in the comments!