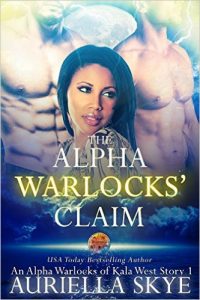 Steam Level 5
Cancel your plans, witches and warlocks! You're invited to tonight's Firewick Festival.
Taking multiple lovers is a family tradition. Hell, it's a witch tradition, but Charice Brixton isn't having it. She doesn't have time for a man, let alone two powerful warlocks. She's perfectly fine running her magic shop in Kala West, Florida with her sisters.
Until she's forced to attend the Firewick Festival, a biannual gathering with stuffy board members overseeing the match of witches and warlocks in hopes of creating the perfect triad. Magical speed dating at its finest. Charice would rather have a root canal. She's willing to use her powers to keep from going, even if it means the wrath of those in charge. That is until two hotter-than-hell men walk into her shop and alter her plans.
As powerful warlock enforcers, Kye and Warren carry out the laws within the magical community. It only makes sense for them to find a mate equally as strong. When they meet Charice, her magic calls to them. Only she can help complete their Mystical Triad, the binding ritual that increases all of their magic abilities. One that involves a lot of power and a lot of sex. Can the Alpha Warlocks convince her they're better as a threesome in both power and love?
This 13,000+ word story is the first of the Alpha Warlocks of Kala West interlinked series but can be read as standalone. It has strong sexual situations and explicit content. Mature and brave readers only.
CLICK on the book cover to PREVIEW this erotic BWWM romance Now!
Get The Alpha Warlocks' Claim at Amazon
What format is this book in? eBook
Have you read this book or another by this author? Tell us about it in the comments!