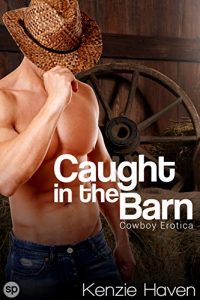 Heat Level 5
I had to get away from the city. My lungs craved the clean air and I needed to escape from my recent relationship. Sunflower Ranch was just the place I'd been looking for. Mama Sue would take good care of me and make sure I stayed out of trouble.
Three weeks in, cowboy Bryce Malone was driving me crazy. With a simple wink the man could send my hormones into overdrive and it was quickly becoming too much to handle. Worse yet, I shared a room with two other girls which made it impossible to relieve myself and get my head back on straight. If I didn't get some private time soon I'd end up doing something that I'd regret.
Laying down in the hay of an unused barn, I took a few minutes to relieve the pent up tension between my legs. Nobody ever went in that old barn without a reason. Everyone except Bryce Malone. I could tell by the look in his eyes and the rope in his hands that I wouldn't be leaving unsatisfied.
This is part 1 of the Taken on the Ranch series.
Get Caught in the Barn: Cowboy Erotica (Taken on the Ranch Book 1) by Kenzie Haven at Amazon