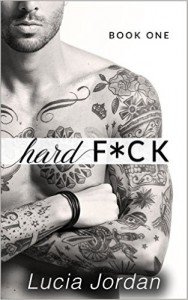 Steam Level 5
Hard F*ck is the hottest new contemporary romance from bestselling author Lucia Jordan!
When Danielle's friend and client, Will Abbot, invites her to a New Year's Eve launch party on his yacht for Night Games, his naughty line of role-playing books, Danielle decides to go. She promises herself that she will try to move on from Nathan Vance, her high school crush, at last.
But little does Danielle know that Nathan Vance will also be at the party, and that his sole mission is to seduce her. Angry and hurt that, after the best night of his life, Danielle never returned his calls or messages all those years ago, Nathan is hell-bent on revenge. He will seduce Danielle and leave her, just as she did to him ten years ago.
At the party Danielle is shocked by how provocatively everyone is dressed and behaves, and realizes she's out of her depth, especially when Will informs everyone that they will be playing Night Games. Before she can leave, however, she bumps into a tall, blonde prince of a man who turns out to be Nathan Vance.
A roll-play encounter between a French maid and her master leads to some fun below deck and a wild weekend at Nathan's penthouse apartment. But when Danielle discovers Nathan arranged everything with Will just to get his revenge, she wonders how the boy she adored in high school could have become such a cold, calculating man? Has he changed so much she doesn't even know him anymore?
What format is this book in? eBook
Have you read this book or another by this author? Tell us about it in the comments!