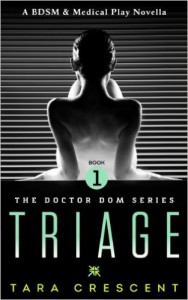 Steam Level 5
***A surgeon with secrets. A woman craves to be spanked. When they get together in an examination room – what will happen next? ***
Lisa Preston has always fantasized about a doctor tying her down on the examination table, and taking her for his pleasure. When she meets Dr. Patrick Anderson in a club, will she be brave enough to tell the Doctor what she needs? And will the Doctor make her fantasies come true?
Note: This novella includes medical play, spankings, domination, graphic sexual scenes, and more.
Get Triage at Amazon
Get Triage at Barnes and Noble
What format is this book in? eBook
Have you read this book or another by this author? Tell us about it in the comments!