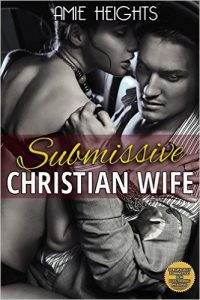 Steam Level 5
Kindle Unlimited Exclusive
Melissa Carson has been waiting too long for a baby or as her husband calls it "a visit from the stork". It is not from a lack of trying, but something is missing from that part of their life. She can only think of one way to make her man more potent in the bedroom but it will involve her putting her inhibitions aside and bending to the desires that her husband had never acted on.
Richard has always been the perfect husband and Melissa wanted nothing more but to be the perfect Christian wife and to lead him down the path she wanted him to follow. Melissa knows a little spice can go a long way in the bedroom and vows to use her husband's desire to dominate her to get what she needs.
If being naughty and submissive was what it took to bless them with a baby, she was going to be the naughtiest wife in the world.
Amie's Note: Submissive Christian Wife is a standalone work with no cliffhanger and comes with the bonus of Amie Heights : The Complete Collection. However due to the strong language and sexual content, this book is not intended for readers under the age of 18.
EXCERPT
When Richard noticed her looking at him, he smiled back, albeit a little bemused at her attention.
She returned her focus to the minister, who was nearing the end of his sermon this morning.
"Again, we must listen to the book of Peter the Apostle. It says; Wives, in the same way submit yourselves to your own husbands so that, if any of them do not believe the word, they may be won over without words by the behavior of their wives, when they see the purity and reverence of your lives."
Melissa knew that passage well and it always had a special meaning to her because of Richard. When they had met he was not a devout man, never attending church and living his life just for his job. That was the way that she had interpreted Peter 3 : 1 – 7, that a wife should show her husband the way by being the best Christian wife she could be. Once he had a taste for it, he would come around.
The minister continued his sermon.
"And to the husbands here, this is not a one way street. Peter also says; Husbands, in the same way be considerate as you live with your wives, and treat them with respect as the weaker partner and as heirs with you of the gracious gift of life, so that nothing will hinder your prayers."
Melissa had to fight down a grimace at that. The "gift of life" was something that she and Richard had been trying to achieve for years now with no success, but not for lack of trying. Since their wedding they had been together that way whenever Richard had desired her, but still no baby. She just wished it would happen more often. Melissa could never complain about their attempts to "send an order to the stork", as he called it as a joke, and not just because it was her duty as his wife. She would never admit it but her desire for sex together sometimes was even greater than his.
Suddenly remembering where she was, Melissa guiltily banished the thoughts of sex from her mind. There would be time enough for that tonight, she knew. She had been so caught up in her thoughts she had missed the end of the sermon.
"Bow your heads in prayer," the minister said, and dutifully Melissa lowered her head. This Sunday her prayers would be the same as every other; to bless everyone she loved and who loved her, and to keep them happy and healthy. And, if it wasn't too much to ask, she wanted to have a baby soon.
Get Submissive Christian Wife at Amazon
What format is this book in? eBook
Have you read this book or another by this author? Tell us about it in the comments!