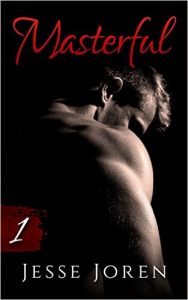 Steam Level 5
If I'd known I was going to wake up tied to my bed, I would have worn nicer panties. Maybe even perfume. But somehow, I can never catch a break.
Since dropping out of college, Eva Bright has been keeping secrets. Like sharing her darkest thoughts with an online stranger she knows only as Hex. It's the perfect arrangement: romance at a distance, no strings attached, and all the control.
At least that's what she thinks until Hex materializes, devastatingly sexy and very much the one with all the power. He knows Eva better than she knows herself, and he has plans for her.
Lots of plans.
The next book in the series is MASTERFUL 2 (ASIN: B011F7XGCU)
Please be advised that the MASTERFUL series contains a storyline that mixes elements of kidnapped romance with erotic dark romance — so there are very adult themes throughout these pages.
What format is this book in? eBook, Print Book
Have you read this book or another by this author? Tell us about it in the comments!