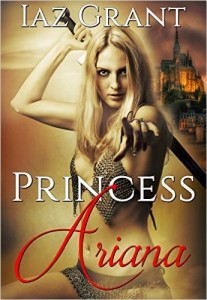 Steam Level 5
This Book consist of Book 1, Book 2 and Book 3 of Princess Ariana's Adventure
Young Princess Ariana lives her restful life in the Royal Palace of the Kingdom of Braston – the last shelter of mankind. Suddenly, in one night her life changes. It all starts when she finds herself witnessing her step-mother's sexual affairs with a demon. Then her father is killed, and armies of ogres destroy their hometown enslaving thousands of people and young virgin Princess. Her virginity is the priceless trophy for the ogre general and it is also the price for her freedom.
"When she was eight, she was standing with the King on the balcony watching hundreds of wounded and hungry people in ragged clothes walking into the city gates. Her father refused to answer Ariana's questions only saying that these people needed help and shelter. But Ariana's curiosity and bravery took her downstairs and out of the Royal Palace that same night. She walked along the streets full of hopeless, crying people, occasionally stopping and trying to listen to them talk and hear their stories. All she made out of their moans and tears piece by piece was that these smeary, muddy people had been citizens of various prosperous kingdoms and empires, the names of which Princess had never heard before. But all their cities and castles had been captured and devastated by huge ogre armies that had come as if from nowhere. Ogres had killed all the men who had been fighting against them, enslaved all the others who surrendered or had not managed to escape. Also, she heard that there were no more humans left anywhere in the world otherwise than Braston. And one very skinny old man mumbled through his muddy beard that one day ogres would come to Braston too, and human beings would stop existing."
WARNING: This book contains mature language and themes, intended for adults only.
What format is this book in? eBook
Have you read this book or another by this author? Tell us about it in the comments!