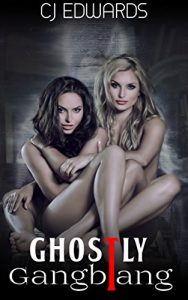 Steam Level 5
The horny ghost is back and insatiable!
So Felicity throws him an orgy!
Three years had passed with the ghost and divorcee Flis had no need for any other lover. He gave her all she needed and more. In fact too much! Whenever he arrived back, he seemed to have so much pent up frustration, she was hardly enough for him. Her solution was simple. She invited a few friends around for a little orgy. Unfortunately, they didn't believe in ghosts. But they would!
˃˃˃ Extract:
"Oh God!" Maureen suddenly moaned like a horny whore. The planchette was still moving but her hands were now off it. The other women now had their attention split between the dancing piece of wood and Maureen herself, who had one hand on her crotch, while the other frantically massaged her boobs.
I could smell the fear in the room and with it arousal. I knew from my own personal experience that the two were inextricably linked. No one tried to leave though and I wondered if that was choice, or they were paralysed with fear, or my entity was holding them there with the power of his presence. I was pretty sure he was capable of that.
Maureen slowly got to her feet and suddenly threw herself forward on to the table. Her feet were firmly rooted to the floor, with her legs crudely apart and her well-proportioned arse in the air. Her big tits were crushed hard against the Ouija board. Then the fucking started!
Scroll up and grab a copy today.
Get Ghostly Gangbang at Amazon
What format is this book in? eBook
Have you read this book or another by this author? Tell us about it in the comments!