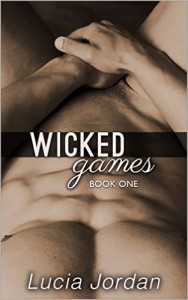 Steam Level 5
A powerful Contemporary Romance. Here is the first book in the 'Wicked Games' Series by Lucia Jordan, written in her signature style of high passion and emotion.
No one's ever made Jillian's body sweat so hard… until she met Steven
When freelance writer Jillian Campbell begrudgingly accompanies her best friend to the Wright Way gym, she gets a lot more than she bargained for. Soon, Jillian finds herself in a personal training session with entrepreneur and former Olympian Steven Wright himself.
Although they couldn't be more different, there's an undeniable and immediate attraction between the heart stoppingly gorgeous trainer and the bookish Jillian.
But Steven is commanding, entitled, and honest to a fault. Jillian can take his firm directions in the gym, but can she handle it in the bedroom?
Only mature readers should download this book
What format is this book in? eBook
Have you read this book or another by this author? Tell us about it in the comments!