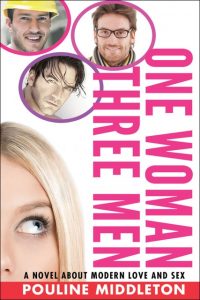 Targeted Age Group:: Steam Level: Heat Level 3
Category: Romance
About One Woman Three Men: A Novel About Modern Love and Sex:
Dating one man is, well, so old fashioned. My new novel, "One Woman Three Men", based on my own life story, shows women how to spice up their romantic lives while empowering them in dating and mating.
Following a nasty divorce and a fleeting relationship, it was time for me to try a new approach to finding love. I decided to date 3 men at once for 3 specific needs I was looking to fulfill; a conversationalist, a handyman and a lover.
My novel recounts my experiences in diary form; the entries are thoughtful but also saucy and hilarious, as men accepted my challenge to choose which role they would fill in my life.
Whether you are a single Millennial, a midlife divorced woman, or a married woman, my book will transform you, and make 2016 the summer to remember.
In order to reach many women struggling with their love life, I want to make the book easy to get! 6/24-7/1/2016, 1W3M is $0.99!
[Read more…] about One Woman Three Men: A Novel About Modern Love and Sex by Pouline Middelton